Gone to the dogs …
In the animal shelter in Ludwigsburg we decided for Judith after our first walk with her.  After our second walk we took her home for one day on probation.  After that a volunteer from the shelter visited us to control our living conditions and appartment.  And then, finally, we could take Judith home.
Judith came from Portugal  originally, where she had been in an animal shelter.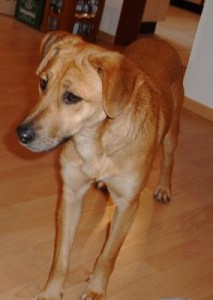 She would have been killed, if she  hadn't been brought to Ludwigsburg thanks to a cooperation. But this was not our reason to adopt her – we simply loved her kind and quiet way.
Pretty soon we learned that she must have made some evil experiences with humans.  People holding stick-like things made her panik. She avoided even the piece of rope we had bought her as a toy, when it lay on the ground. When I kept it in my hands to show it to her, she fled anxiously.
Someone holding a stone frightened her. Nordic walker in 500m distance made her tremble. She avoided men, especially men with low voices. This caused some trouble for me, because my own voice is quite deep.
Additionally there was the "normal" fear from unknown things. Garbage cans, letter boxes and many other things she did not know, had to be investigated cautiosly.
So we had some things to deal with.
But how to start? As absolute beginners we had no choice. We bought lots of books about dogs and started reading.  And we found out very soon that a lot of things in these books couldn't be true, at least for Judith.
It was surely not our task to be strict or rude with Judith or to punish her.  Every cruelty a sick brain could vomit had probably be done to her already.
Our job was to encourage her, to praise her and to reassure her. And, as a main task, to take her fear from her and to win her trust. On the other hand we learned pretty fast, that she needed clear rules and limits to feel secure.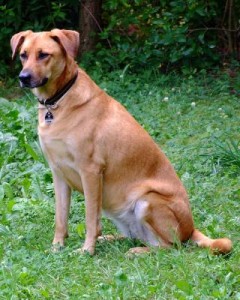 We agreed on "loving consistency".
It took one year for Judith to change into a  caring and cuddling dog. Easy going with other dogs, reluctant but friendly to other people and with a strong bond to us.
She died much too early and very surprising on the 6th of march 2007 from an encephalitis. We will always miss her.